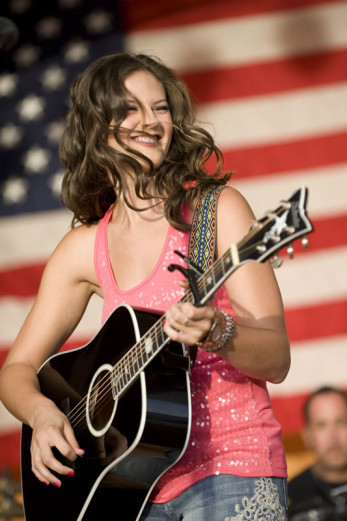 Recording Artist, Singer, Songwriter
Record Label Founder & Owner
Outstanding Role Model
Corporate Brand Spokesperson
Media/TV Personality/Speaker
American Idol, Finalist
Having multiple talents and interests hasn't deterred Ayla from achieving many significant hallmarks in her young career.
In November of 2012, Ayla released her second album Heroes & Hometowns and achieved a life-long dream of performing at the Grand Ole Opry in Nashville, TN. Since the album's release, Heroes & Hometowns has peaked at #1 on Amazon MP3 and #51 on iTunes.
Ayla has performed to a national TV audience on Fox & Friends and The Huckabee Show, performed the National Anthem with the Boston Pops on July 4th to an audience of more than 1 million people, sang the National Anthem and God Bless America live on ESPN at the 2013 Orange Bowl, was the NBA's Philadelphia 76ers National Anthem singer for two years and has performed overseas three times to American troops in Afghanistan, Kyrzistan, Spain, Italy, Greece, Turkey and Egypt.
Recognized as a pioneer and entrepreneur, Ayla founded and owns her own record company, Ambient Entertainment.  She is currently working on the release of her third album. Having a keen eye for business and building mutually successful partnerships, Ayla enjoys outstanding corporate relationships with the likes of Hilton Hotels, Texas Roadhouse restaurant and Concerned Veterans For America.
Prior to Ayla's latest milestones, she was a national news correspondent for The Early Show on CBS, was a Finalist on Fox Network's, American Idol in 2006 as well as a full scholarship and All-American Division 1 basketball player at Boston College.
Ayla is happily married to husband, Keith, a former Major League Baseball player in the Colorado Rockies organization, and they make their home in Nashville, TN.  Ayla is supported by her parents, former United States Senator of Massachusetts, Scott Brown and TV reporter, Gail Huff as well as her sister, Arianna.