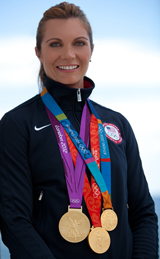 Three Time Olympic Gold Medalist
Revered Role Model
MBA, Coaching & Athletic Administration
Dream in Gold, Inc., President & Owner
Corporate Brand Spokesperson
Extensive Media/TV Experience
Motivational Speaker/Appearances
Philanthropist & Animal Lover
Misty has dominated every level of the sport of volleyball, both as an indoor volleyball Champion (two California State Championships at Newport Harbor High School, 1991-1995 and one NCAA Division 1 Championship at Long Beach State, 1998).
Misty is universally regarded as the greatest volleyball player in history highlighted by three(3) consecutive Olympic Gold Medals won in Athens, Greece/2004, Beijing, China/2008 and London, England/2012.
More importantly, however, is Misty's passion for helping others, being an outstanding role model and making a difference with every opportunity.
Misty is the daughter of Butch(a 1968 USA Olympian/volleyball) and Barbara(a nationally ranked professional tennis player). Misty is happily married to Husband/Major League Baseball player, Matt Treanor.